Main Page
From PurpleIRC Wiki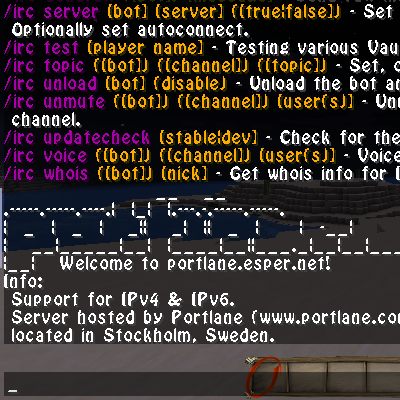 PurpleIRC is a feature rich IRC bridge plugin for Minecraft.
Supports multiple Minecraft mods. (CraftBukkit, Spigot, Forge and RainbowMod)
Relay game chat to IRC.
Relay IRC chat to the game.
Relay game events to IRC. (quit, join, death etc...)
Relay IRC events to game. (quit, join, mode changes etc...)
Colors are translated automatically.
Fully configurable message templates. (global, per bot or per channel)
Enable or disable any chat feature to and from the game.
Most of the configuration options are per bot and per channel.
Each bot can join multiple channels.
Automatically op IRC users.
Automatically voice IRC users.
Control and protect the IRC topic.
Manage IRC channel modes.
Automatically reconnect to the IRC server on disconnect.
Respond to commands in IRC chat.
Send any command to the game via the console.
Supports prefixes and suffixes. (see sample config for details)
Displays IRC users in the tab list. (requires ProtocolLib)
Monitor player commands.
Great for cross server chatting.
SSL/TLS support.
SASL support.